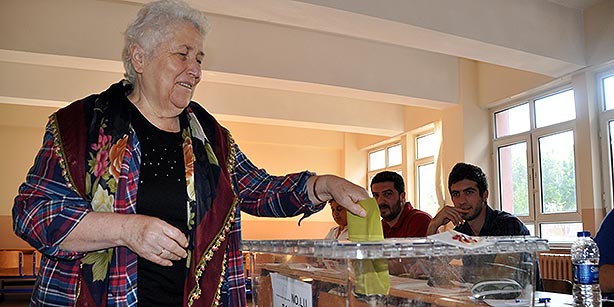 Turkish elections 2015 polls: Erdogan fighting for supermajority
Monitoring Desk: Polling process peacefully ended on Sunday in the closest parliamentary election in more than a decade in Turkey where the ruling party is fighting for getting 367 seats for supermajority in the 550-seat National Assembly.
Polling was started at 8 a.m. Turkish time (0500 GMT) for balloting. There are 54 million registered voters in Turkey.
If ruling party of President Tayyip Erdoğan fails to get supermajority then his dream to convert Parliamentary system into US designed Presidential form of government will die.
If ruling party AKP fails to get 330 seats, then it will be in trouble because that figure is needed for any constitutional changes through a referendum.
President Tayyip Erdoğan and his AK Party  are ruling the country with all force without any substantial opposition since the last 12 years but now pro-Kurdish opposition is also trying to enter parliament as a party for the first time.
Turkey has achieved remarkable economic uplifting under the AKP and Turkey is now standing in leading economies in the region. AKP worked in all sectors that are usually needed for real development including education, healthcare and transport. President inaugurated the ultra high-speed train service on the Ankara-Konya line just a week before general elections.
Communication infrastructure development had been a top priority of AKP. Turkey has visibly changed since a financial crisis forced it into an International Monetary Fund (IMF) bail-out programme in 2001.