Here is a complete guide of top things to do and places to visit in Baku in 2020 while you are exploring the amazing city of Azerbaijan. Recently, Baku has been a touristic place in 2019 and a lot of Europeans have started to visit Baku.
Here are our recommendations on places to visit in Baku if you are planning for Baku as your next travel destination.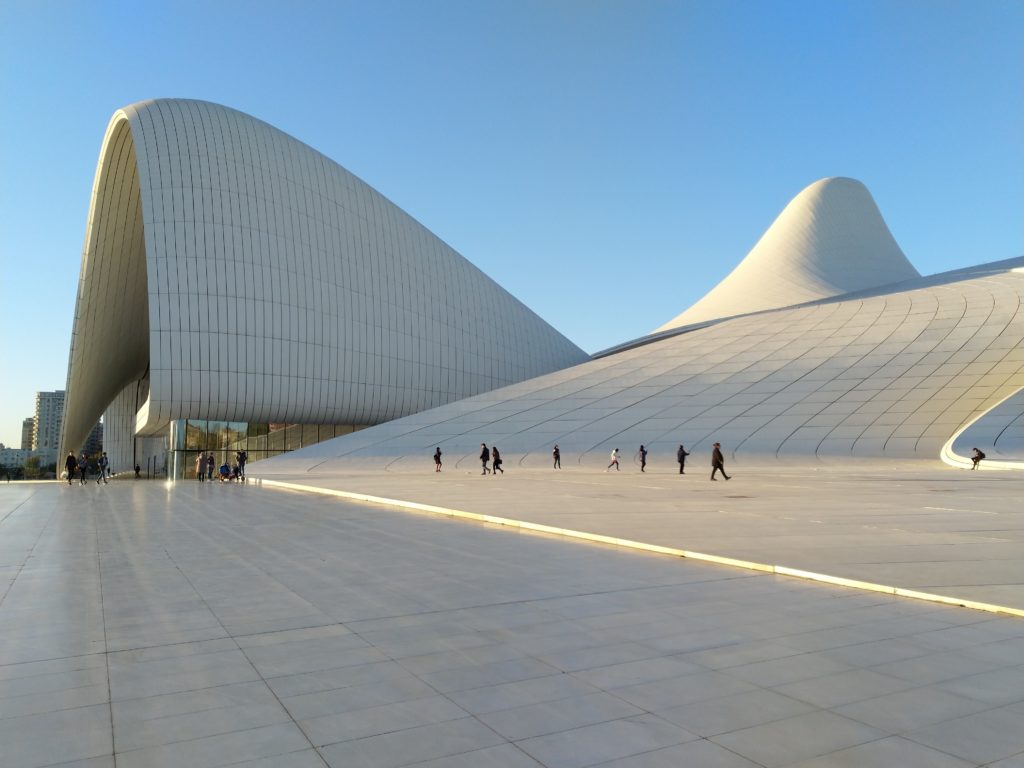 THINGS TO SEE AND DO IN BAKU
The best part of any trip. The places you have to visit and the experiences you want to get. Let's get to all the things you must see and do in Baku.
Icheri Sheher
Icheri Sheher, which is translated as 'Old Town' was included as the UNESCO World Heritage Site in 2000. It is located right in the center of the city and the history of this place dates back to thousands of years. Just like the other historic cities in the world, the town is surrounded by fortress walls and is home to many famous Baku monuments. You can go to the Maiden Tower, Shirvanshah Palace, visit various mosques and minarets, the ruins of caravanserais, and bathhouses, etc.
Just take a walk here and you will feel being teleported to the old times when everything was simple, serene and cozy. I am sure, you will love it.
Flame Towers
With a height of 190m, the Flame Towers are the tallest skyscrapers in the city. Inspired by the city's history of fire worship, the trio of buildings represents the culture and is evidence of Azerbaijan's stature in the oil world. Each flame-shaped tower has a different function, with one of them being a residential luxury complex. The second tower is a hotel with 36 floors and 318 rooms while the third one is for commercial office spaces.
You can't live or have an office space in the towers, but you can enjoy their amazing light show. Once the sun goes down, the three Flame Towers double up as large display screens with whooping 10,000 high-power LED lights. It feels like the three towers are on fire and the sight is definitely to behold.
As far as getting inside the towers is concerned, they aren't open to the public. If you want to stay in the hotel, it costs $170 per night and I am sure that is something not affordable in your backpacker's budget.
Shirvanshahs Palace
Shirvan was the main area of the Shirvanshah Kingdom. Situated right in the center of Icheri Sheher, this palace was built in the 15th century and was the home of the Shirvan kings back then. For those who are a fan of architecture especially the one dating back to medieval Islamic civilization, this place offers a complete package.
You will get an entrance for nearly $6 and will be able to visit the Royal mosque, the Divankhana mausoleum where King Khaliullah is buried, the Key Gubad mosque, the ruins of bathhouses, and the Sufi philosopher Bakuvi's mausoleum as well.
Maiden Tower
These towers have become the representation of Baku in the modern age, and I think you do not need an explanation of which towers I am talking about because every Baku picture has them. What are these towers for? No one knows exactly! According to some people, Shirvanshah built them as a defense system and a beacon to send alarm signals. Another story says it is a Zoroastrian temple of fire worship, and when Muslims took Azerbaijan's rule, it was turned into a defense tower.
This one tower has a lot of stories attached to it, but it is indeed a must-visit place. You can go inside it, climb the stairs to the top for a beautiful city view and visit the exhibits as well. The entrance will cost you nearly $6.
Heydar Aliyev Center
This place is an architectural marvel. It was opened in 2012 and is considered the emblem of modern Baku. The building has a wave-like ascension from the bottom up and a descent down the Earth afterward. It has a conference hall, exhibition halls, and a museum. You will have to pay $7 to go inside the Center. Each exhibition has a different entry price, so if there is some intriguing exhibition happening, you will have to pay for it separately. However, you can admire the center from the outside for completely free.
The Heydar Aliyev Center also won the Design of the Year award in 2014, and that is one of the many reasons you should visit this place.
Fountain Square
This square is situated in the heart of the city and is one of the most happening places. It isn't noisy, but calm and super relaxing. Although it is one of the places where Baku's outdoor events, festivals and public gatherings happen, it still is the place you can stroll around for a nice city view.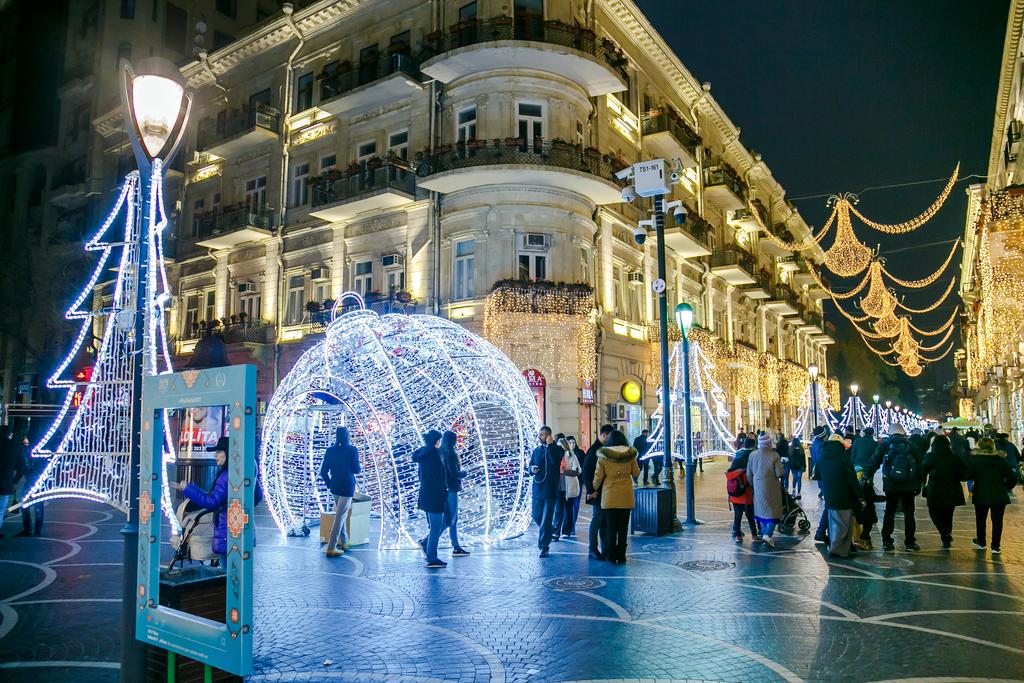 Museum of Miniature Books
This museum is only in the world of its kind. It has a miniature version of an endless quantity of books that existed. The museum is a private collection of Zarifa Salahova. The library now has books from all across the world in various languages including; English, Azeri, German, and Russian.
The entrance to the museum is completely free, and I recommend visiting this unique place even if you aren't a book lover.
Taza Bazaar
This local bazaar is a glimpse of how people in Baku, Azerbaijan love to live. This market is one of the largest with the inaugural going back almost 70 years. You can buy fresh produce if you are cooking on your own. The Bazaar is also the best place to catch some pictures in a local vibe, so we recommend visiting early in the morning for the perfect light.
Workshop of Ali Shamshi
If you are in the Old City, there is no way you will pass by Ali Shamshi's workshop and won't notice is. This place has no historical or architectural importance, but this talented artist has taken the tourists by storm. Do visit the studio to see colorful and quirky installations & paintings.
Bilgah Beach
If you want to have a perfect tan once you go back home after your Baku trip, I recommend visiting Bilgah Beach. It is a pristine sandy beach with a perfect sea view and a relaxing atmosphere. Though it is around 35 kilometers northeast of Baku, you can easily get there by public transport and the admission is free too.
Upland Park
If you want a representation of Baku architecture, which is a mix of Soviet, Ottoman, and Ultramodern, this is a place to be. You won't only be rewarded with a mesmerizing view of the city, but you will love walking around this beautiful place. You can go up the stairs or by the funicular to catch the sunset or sunrise and watch the stunning Caspian Sea and the harbor. If you walk, the entrance will be free otherwise, you will have to pay nearly $1 for the funicular.
Baku Boulevard
Established in 1909, this Boulevard is a 3km long promenade running parallel to the seafront. This is a hugely popular place among tourists who want to relax and have a peaceful stroll by the beach after a long sightseeing day. There are fountains, restaurants, and parks as well.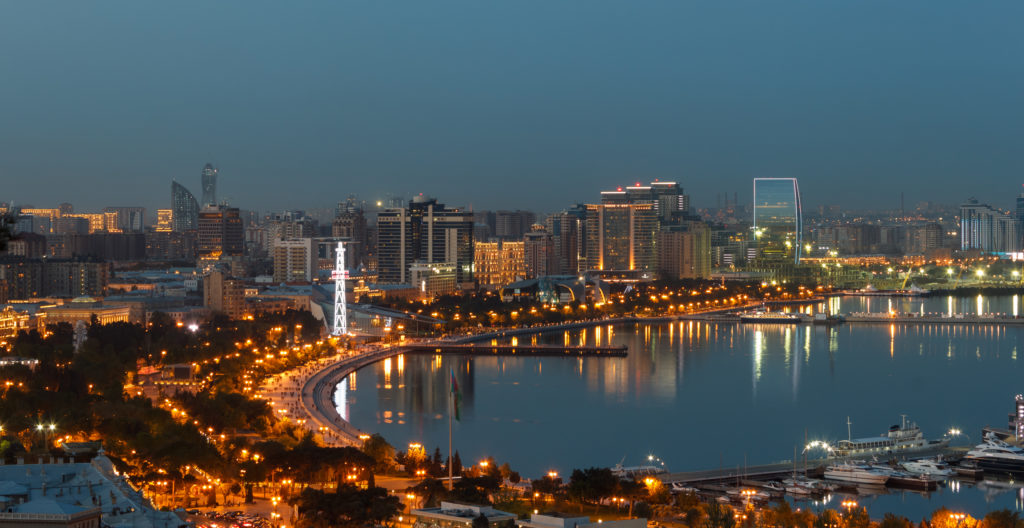 If you want to get the touch of Europe's famous destination Venice, the boulevard offers that as well. There is a little Venice sort of setting from where you can rent tiny gondolas and take a ride along the seaside. We would rate Baku Boulevard as a number 3 destination among top Places to visit in Baku Azerbaijan.
Caspian Sea
Enjoy a beautiful sunrise of the sunset from the pier of Baku at the Caspian Sea and you will feel fulfilled. Baku has a long pier that goes out into the sea and is home to the world's most beautiful sunrises. Enjoy sun warming you up while the waves making their rhythm. You wouldn't have ever felt so relaxed, but I bet this place will make you feel that.
Baku Streets
No other heading can aptly describe what we mean to say here. If you want to enjoy Baku or any other city of the world for that matter, just pick a random street and get lost in it. I am sure you will find beautiful buildings, little shops, mesmerizing mosques, quaint parks old architecture and a lot more. This is one of the best ways to enjoy your vacations.
Take A Hop-on Hop-Off Bus Tour
While I am sure you will be able to find free walking tours as well, but Baku is huge and you won't be able to capture everything on foot. Hence, we suggest you take a hop on hop off bus tour on your first day in the city. It is the best way to give you a quick glimpse of the city, so you know which places you would want to come later and explore and which places were just the one-sight visit.
You can buy a 24-hour ticket for only $12 and can board the bus at any of the 15 stops. The ticket will give you an audio guide, a city map, and some information about the tourist attractions too. You will be allowed to take pictures at every stop for a few minutes. You can hop off at any stop and hop on when the next bus comes too.  Hop on Hop off bus is our pro tip for the guide to the best places to visit in Baku since it will save you a lot of money.
The bus runs from 10 am to 7 pm daily and the ticket is valid for full 24-hours.
Gobustan National Park
Baku is blessed with a lot when it comes to nature, culture, and history. It also has a desert beauty like no other. The Gobustan National Park or Gobustan Rock Art Cultural Landscape is a UNESCO World Heritage site. The rockfaces have petroglyphs that go back to 10,000B.C and there are more than 6000 markings by early civilization. Explore this place and I am sure you will crave for the history and what happened at a place like this one. This is one of our top recommendation among Places to visit in Baku 2020.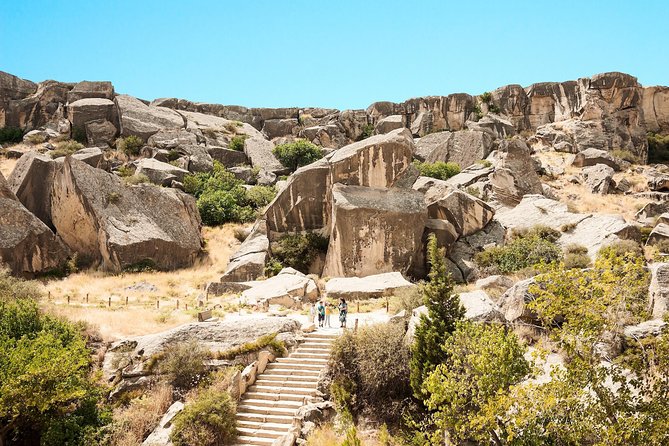 =Tags=
Places to visit in Baku
Things to do in Baku
Baku, your next travel destination