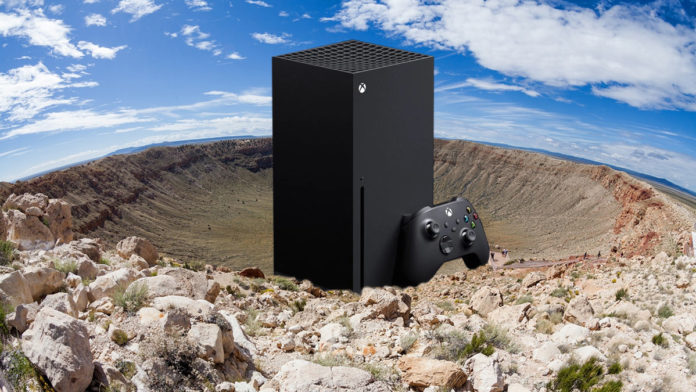 If you have been wondering about what is Xbox Series X, here is everything you need to know about it. Microsoft's next-generation Xbox is officially called Xbox Series X. Microsoft revealed the name and console design on stage at the Game Awards. Reviewing the look of the console, it looks far more like a PC than we've seen from previous Xbox consoles. Microsoft's trailer provides a brief sight of the new design of the product. The price point is $499–$599
Taking a glimpse of the design of the console, it is designed to be used in both vertical and horizontal orientations. Moreover, Microsoft's Xbox chief, Phil Spencer, assures that it will deliver four times the processing power of Xbox One X in the most inaudible and effectual way.
Size of Xbox Series X
Though Microsoft hasn't revealed the dimensions of Xbox Series X here is an estimate to understand the difference between Xbox Series X and Xbox One X.Asper the note from Microsoft about the nearly same size of the newest Xbox controller, we can have a comparatively good comparison.
The Xbox Series X is slightly shorter than the Xbox One X. The Xbox Series X is not nearly as wide as the Xbox One X. The Xbox Series X is far deeper, or thicker than the Xbox One X, since it's no longer a more traditional rectangular box as it is a sort of double-cube.
Xbox Series X Specs
If you're planning to switch from an original Xbox One to an Xbox Series X, so you will be noticing a significant jump in GPU power of around 8x TFLOPS. From an Xbox One X to an Xbox Series X, you're going to see around 2x the GPU power. Here is what Microsoft reported in the first announcement related to this console.
According to the report, the following can be expected of the Xbox Series X:
4K at 60FPS
Possibility of up to 120FPS
Capability of 8K
Variable Refresh Rate (VRR) support
AMD Processor
Zen 2 and next-generation RDNA architecture
Hardware-accelerated ray tracing
Variable Rate Shading (VRS) technology
Next-generation SSD
Auto Low Latency Mode (ALLM)
Dynamic Latency Input (DLI)
Backward compatibility with all Xbox One games, accessories*
1x New Xbox Wireless Controller inbox
Microsoft has always remained concerned regarding the convenience of the users as well as knows the way how to hook the minds of gamers with its new product. In case if you're reluctant to buy a new Xbox Series X because you don't want to see all that money you already paid for Xbox One goes into waste, here is the solution! All you'll have to do is switch that old console and use the new one. The rest of the staff will move with you!
Some new games will almost certainly only be available on Xbox Series X but we've yet to see exactly how everything works in this case. Have a look at the initials:
Above you'll see the key to the future, then below you'll see a title that'll cross from one to the other. This is a transition point, to be sure. Not quite like Xbox 360 to Xbox One, but more significant than from Xbox One to Xbox One S, or X.
If we generalize on what's above and pair with what we've heard from inside sources over the past several weeks, we can have the following (non-official) specs:
CPU: At least 8-core processor, 3.5GHz+
GPU: Xbox Series X custom graphics processing unit
RAM: 16GB total, with 13GB for games alone
Internal Media Storage: NVMe SSD, something FANCY
Power: 12 TFLOPS!
Microsoft isn't talking GPU performance specifics just yet, but Spencer has dropped some hints in an interview, and the graphics you see in the Hellblade 2 trailer were supposedly captured in a game engine, running on the console, in real-time. "We wanted to have a dramatic upgrade from the Xbox One base console," says Spencer. "So when we do the math, we're over eight times the GPU power of the Xbox One, and two times what an Xbox One X is." The Xbox One X is 6 teraflops of GPU performance, so the Xbox Series X could be capable of 12 teraflops.
Controllers of Xbox Series X
Speaking of controllers, Microsoft also revealed a new Xbox Wireless Controller with the new series. "Its size and shape have been refined to accommodate an even wider range of people, and it also features a new Share button to make capturing screenshots and game clips simple," explains Spencer.
Microsoft's Xbox Series X console will also include Auto Low Latency Mode (ALLM) and Dynamic Latency Input (DLI) that will "make Xbox Series X the most responsive console ever." Spencer says the Series X is "designed for a future in the cloud," and it will combine hardware and software to "make it as easy as possible to bring great games to both console and elsewhere."
What else you need to know?
Microsoft hasn't addressed reports of the company's plans for two next-gen consoles, but the Xbox "Series" X naming does suggest there won't be just a single console. We understand Microsoft is planning two new consoles for Series X, with a second lower-priced and less powerful console planned alongside the more powerful main console.
Microsoft has been working on Xbox Series X with the name Project Scarlett previously, and now the naming has got confirmation from Sony that it's PlayStation 5 taken for the name of its next console. Microsoft is also claiming Xbox Series X will be the "fastest" and "most powerful," in what could be a reference to having a more powerful console than Sony's PlayStation 5.
Well… the competition is hard and till the time these products will be unveiled, we have to wait and see which console comes out on the top in terms of looks, specs, controllers and the performance. Sony has not yet revealed the design of its PlayStation 5, but that hasn't stopped Microsoft from surprising everyone with this hardware disclosure.