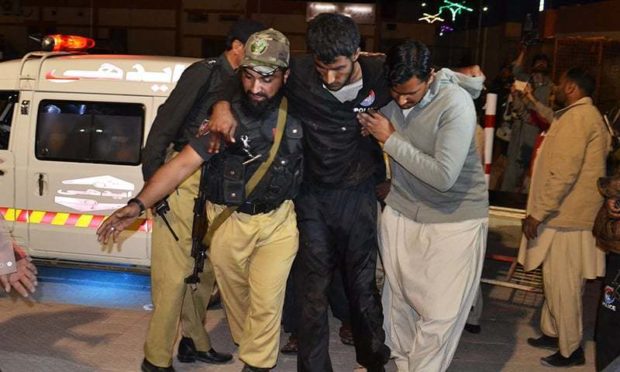 By Salma Ahmed
Instant flying to Quetta by Chief of Pakistan Army Gen. Raheel Sharif shows again that he stands with nation wherever and whenever he is needed by the nation.
Terrorists attacked Police Training Centre at Quetta and it was not a military establishment and military personal were not martyred therefore there was no moral obligation that could compel military leadership to fly to Quetta, visited Police Training Centre and cared injured at hospital.
Pakistan Army launched a military operation on June 14, 2014 that is called "Zarb-e-Azab". This operation successfully dismantled factories of terrorism, regained lost areas in tribal region and demolished moral of terrorists who could strike anywhere on their own choice before Operation "Zarb-e-Azab" was launched. Terrorists used to strike even General Headquarters of Pakistan Army, Naval bases and Air force installations. Now striking capabilities of terrorists are limited as well as their workforce has been eroded. However, neither terrorists nor their facilitators have been eliminated 100 percent. Every sane element in Pakistan understands that war against terrorism is yet not over.
Zarb-e-Azb is and was a purely military operation that is and was successful to achieve its results and terrorists are now have their operation bases out of Pakistan instead of in tribal areas as they had before. All big terrorist attacks were operated from Afghanistan from where top terrorist organizations including Tehrik-e-Taliban Pakistan (TTP) and Lashkar-e-Jhangvi are operating and their leadership is living along with their families.
One should not forget that Zarb-e-Azb — a military operation is one of the core points of National Action Plan (NAP) while other points including action against radical mindset and action against banned organisations are yet to be cared.
Banned organisations are still operating with new names but faces are old and these faces can been seen roaming around with political leadership in all four provinces. A number of political and religious scholars sitting on television screens are still teaching Jihad and radicalism while certain columnists are still promoting importance of Jihad and holy wars. One can read in newspapers that leaders of known radical organisations are giving statements about what kind of foreign policy Pakistan should have. There is a saying that the Nation that makes a great distinction between its scholars and its warriors will have its thinking done by cowards and its fighting done by fools.
If you look at the history of human civilizations, from the Roman Empire to the Soviet Union, you will see that most do not fail simply due to external threats but because of internal weakness, corruption, or a failure to manifest the values and ideals they advocated.
Though Pakistan is fighting against radicalism but certain political parties are stopping way of the state to clamp personalities who are under fourth schedule to move around freely and transact financially. It may be mentioned that the fourth schedule is a section of the Anti Terrorist Act under which someone who is suspected of terrorism is kept under observation; it is mandatory for him to register his attendance with the local police. Fourth schedule is being flouted and personalities place under fourth schedule are allowed to hold public rallies, promoting Jihad and even collecting funds for Jihad.
It looks that certain stronger elements in media; a group of writers; some components of civil and military bureaucracy; right-wing political parties and western-linked intelligentsia do not allow Pakistan to come out from the narrative we opted during early 80s that was nothing just a philosophy of dividing the society on religious, sectarian and ethnic basis.
Only military leadership of Pakistan should be loaded with sense of responsibility or political parties and society at large should also deliver their shares and respond to the needs to save our country from further disasters?
Disclaimer:
The views and opinions expressed in this article/Opinion/Comment are those of the author and do not necessarily reflect the official policy or position of the Eurasian Desk of Dispatch News Desk (DND). Assumptions made within the analysis are not reflective of the position of Dispatch News Desk.