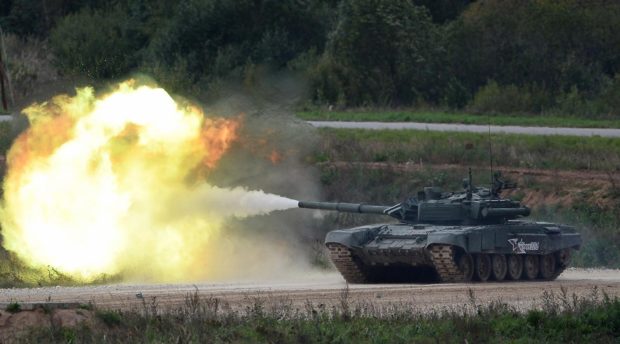 Moscow, Russia: The Indian Ministry of Defence has approved a deal with Russia for the supply of 464 T-90MS.
According to spokesman of Indian Defense Ministry, the decision was taken on the instruction of Indian Prime Minister Mr. Modi.
India is already using Russian made tanks since long including T-72 and T-90 and has 850 T-90 operational in Indian Army. T-90 is third generation Russian Tank known for its fire power.
T-90 are produced by Russian company "Uralvagonzavod (Уралвагонзавода) that also confirmed deal with India. It may be mentioned that new T-90 tanks are best for destroying enemies. In ammunition export version of the T-90 is included fragmentation projectile with remote detonation to destroy the enemy's manpower.
Most of the equipment India holds in readiness on the border with Pakistan. Between these countries is very tense situation that threatens to escalate into a real war.
"Pakistan is already getting military hardware from Russia including tanks and helicopters but now Indian Prime Minister Modi is moving faster towards Russia than Pakistan due to Pakistan's foreign policy towards Middle East where Pakistan is closet allay of Saudi Arabia whiel Russia stands with Syria, say Russian experts.
For the implementation of the contract is planned to build a factory Heavy Vehicles Factory (HVF) near Chennai, which will deal with the tanks assembly. Given the slow pace of Indian production, the plant will be collected only a part of the latest T-90MS, and the rest will be delivered directly from Russia.
This situation is not uncommon for India, it is enough to see the previous contract, of 850 T-90S tanks only 200 pieces were produced in the country for seven years. The rest were brought from Russia directly, otherwise it is not known how much time it would take them to domestic production.
In 2006, the serial production of the tank went "Arjun", developed by Indian experts to replace the tanks of foreign development. At the moment, they produced about 120 pieces. The Indian military are unhappy with internal development, and therefore switched to the purchase of T-90.