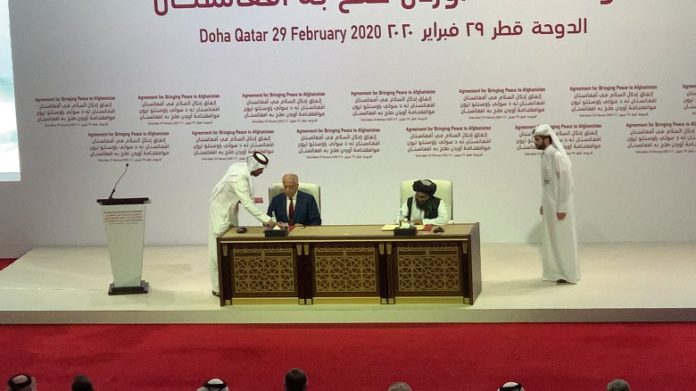 By Ahmed Akhwanzady
Kabul, Afghanistan: Two historical moment has been witnessed last week—- successful conclusion of Afghan Peace Deal between Taliban and United States and second is two Presidents of Afghanistan taking oath at same time but at different places. Every one of them believes that he is the legitimate President of Afghanistan.
Here I want to concentrated only on one historic development that is Peace Deal.
The agreement between the US and the Taliban has been signed in presence of all concerned actors on February 29, setting a timeline for withdrawal of all foreign troops from Afghanistan.
Taliban have committed to nonuse of Afghan soil against any country in the world and delinking itself from all terrorist organizations. Signing of the agreement leads to intra Afghan dialogue in few days. Under the circumstances, following thrust lines should be shared with all stake holders:-
In neighbourhood, Pakistan has genuine stakes in the peace and stability in Afghanistan and has played most important role in making the Doha Peace Process a success. Pakistan's genuine contribution for Afghanistan peace have been recognized by all stake holders including the US, China Russia and the Taliban. Islamabad confirms that it will whole heartedly accept the collective decisions taken jointly by the Afghans for a peaceful future.
Afghan peace and progress will open unlimited avenues of cooperation and progress for both countries through mutual and multiple engagements in trade, commerce and connectivity.
This promising scenario will help positive engagements of people to people and official relationship between two neighbours termed 'Conjoined Twins' by former Afghan president Hamid Karzai. People to people relationship will witness new heights as the trade, commerce, communication linkages, corridor connectivity is likely to boom.
In the initial phase Afghans would need huge help from international community and especially the regional countries. It is time for Pakistan to rise up to the occasion and provide all possible help to crisis struck Afghan brethren by helping them in institutional and infrastructural development. Afghans can get benefit from Pakistan's health, education, labour, trade, communication and other infrastructure development sectors.
If everything goes smooth, Pakistan and Afghanistan can even look to sign a bilateral strategic agreement covering all sectors. Both countries have faced worst spate form the war on terror, it is high time for both to get united and earn back the lost space through building an environment of trust, mutual confidence and shared values. Pakistan and Afghanistan's trust bondage with China can help build a great trio for enormous economic opportunity.
Post agreement views of the Taliban leadership are extremely positive however stance of the spoilers and attention seekers must be discouraged in order to safeguard peace prospects. Inclusive stance of Taliban must be reciprocated as many Afghan leaders have already hinted at supporting Taliban in future power formula. Those who stand victorious today have the sagacity to address all concerns about future of Afghanistan. It is advisable for all actors to support the peaceful future of Afghanistan and stop airing petty and useless doubts.
Afghans deserve international partnership and support in their new journey, only if they demonstrate traditional Afghan wisdom, adopt unity and shed petty differences.
For gaining fruits of Peace Deal, sensibility is needed here in Kabul and local leadership must shun their differences off for collective cause of peace in a country which has consumed two generations in fire of war.
Let us hope for the best for my country and pray for my young generation.