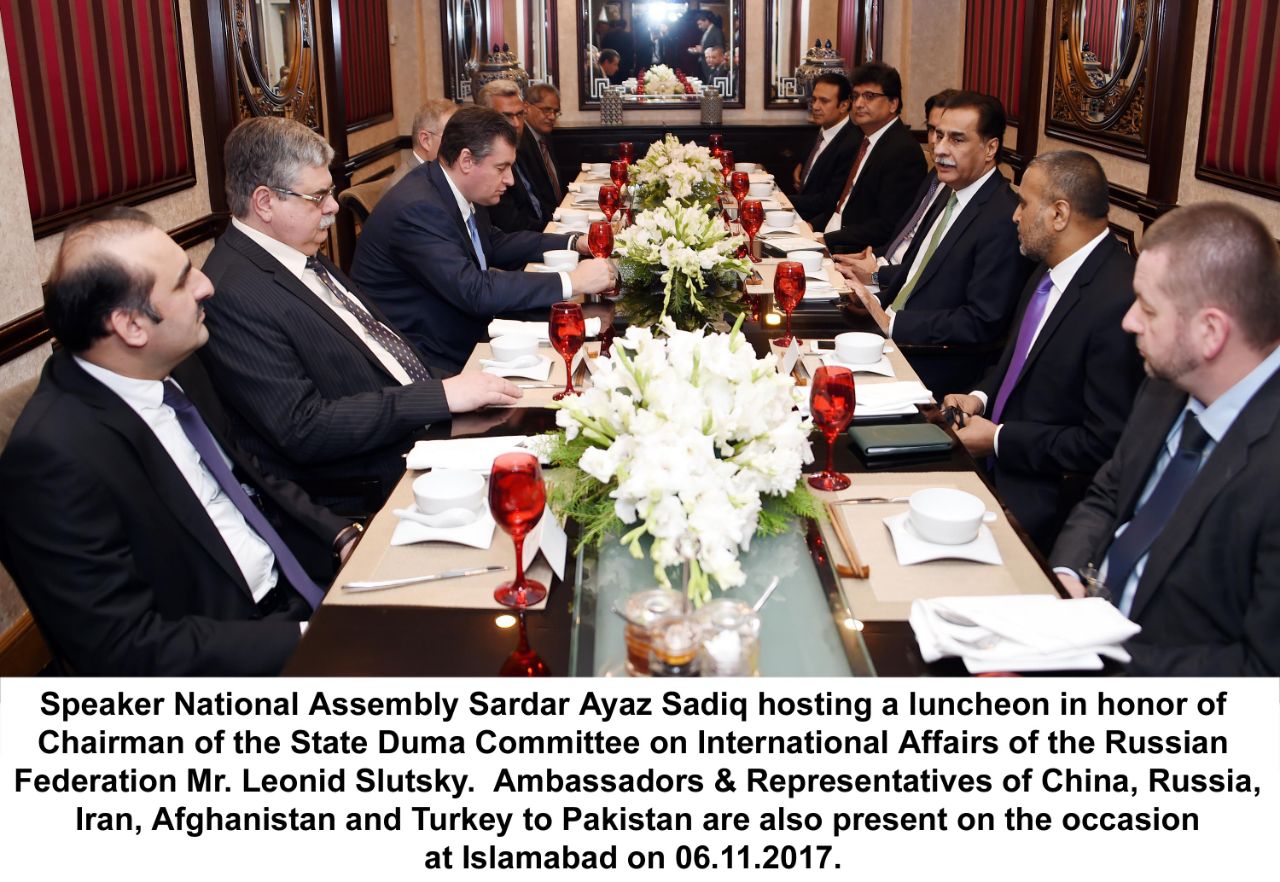 ISLAMABAD, Pakistan: The Chairman of the Russian State Duma Committee on International Affairs Leonid Slutsky (Леони́д Эдуа́рдович Слу́цкий) met the Speaker National Assembly Sardar Ayaz Sadiq in Islamabad on Monday and discussed promotion of bilateral ties and matters of mutual interest.
According to Dispatch News Desk (DND) News Agency, during the meeting, Speaker National Assembly of Pakistan Ayaz Sadiq said that Pakistan greatly values its relations with Russia, and reiterated Pakistan's desire to further strengthen its relations with friendly Countries.
Ayaz Sadiq said that Pakistani Parliament and people want to expand their trade and economic cooperation with Russia, and also look for turning the dream of regional development into reality.
The Speaker stressed the need for frequent parliamentary exchanges among friendly Countries to achieve regional and economic development goals.
Once again calling China Pakistan Economic Corridor (CPEC) a 'game changer' for the whole region, Ayaz Sadiq said that it would benefit all people of the region. He said that CPEC would make it possible to reach Central Asian trade markets through Russia.
Sardar Ayaz Sadiq further said that terrorism poses biggest threat to the regional development, and therefore, all the Countries must chalk out a comprehensive strategy with joint efforts to deal with it.
The Speaker said that the National Assembly of Pakistan is organizing a Conference in December in which Speakers of China, Russia, Turkey, Iran and Afghanistan would participate.
Ayaz Sadiq said that the Conference would deliberate upon further improving and strengthening contacts among Countries to prevent the growing terrorism-related incidents in the region.
The Chairman of the Russian State Duma Committee on International Affairs Leonid Slutsky said that Russia wants to promote cooperation with Pakistan in economic, defense, trade and all other sectors.
Leonid Slutsky said that Pakistan has rendered unprecedented sacrifices in the fight against terrorism which cannot be forgotten by the world.