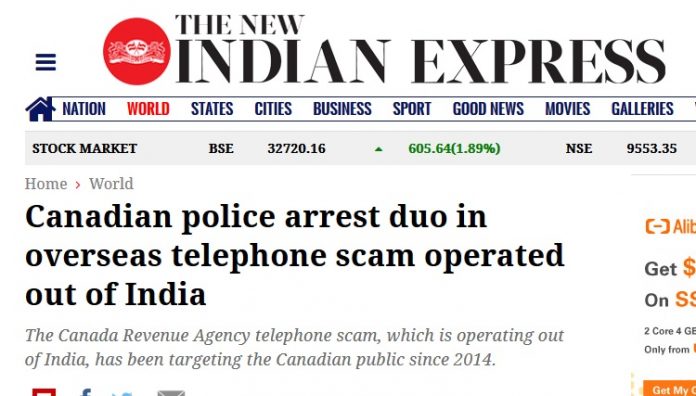 Sohasni Sinha
New Delhi: Indian Anti Cyber Crime agencies are worried in handling thousands of small and big networking of scammers operating from India as they are now under the watch of International Financial Crimes investigators.
Indian agencies wish to get hold of such rackets before financial crime investigating start taking serious actions against Indians living in North America and in UK because scammers sitting in India are linked with Indians living in these countries.
International agencies are now seriously following Indians information technology firms after tech support scam complaints are pouring in from Canada, United States, New Zealand and United Kingdom.
The majority of victims belong to vulnerable groups of society including old people who don't have families, people living alone and people who are disabled and cannot handle their normal lives under stress.
Indian Call Centres catch their victims by sending them messages like their computer had been infected by a "pornographic virus" or other malware, and giving them a helpline number to call or by informing them that their bank accounts have been halted due to their alleged links with international terrorism related activities. Or victim gets a call that his or her computer or telephone had been found downloading child pornography due to a possible bug and federal investigation agencies are reviewing their downloading data. Then scammers offer help to clean their computers or telephones before law agencies get hold of data and reach the victim. Service charges (costing over 1000 USD etc) are offered to victims who usually become panic and here the game starts from Indian Call Centre rackets.
Such fake "Call Centres" are scamming millions of US dollars. Recently an Indian Couple was held for Duping Canadians of Rs 90 Crore Indian currency)
An Indian-origin couple has already been arrested for running an overseas telephone scam in which couple scammed Canadians of nearly Rs 90.68 crore Indian currency by posing that they are Tax officials.
They were arrested and charged with fraud and money-laundering, while an arrest warrant had been issued against their alleged partner Shantanu Manik, who is believed to be in India. As per Royal Canadian Mounted Police (RCMP) investigations the fraudsters were targeting Canadians since 2014 by calling and identifying themselves as representatives from the Canada Revenue Agency (CRA) or RCMP.
The RCMP said between 2014 and 2019, Canadians lost over 16.8 million Canadian dollars to the scam. The RCMP investigation into the scam also uncovered money mules operating in Canada to launder huge sums to India.
Federal authorities termed the culprits as accomplices to an enormous global scam involving overseas Call Centres (operating from India), including the so-called CRA tax scam.  Scammers, commonly in India, impersonate officials from the Canada Revenue Agency and insist the recipient owes taxes and must pay immediately, or else face arrest or imprisonment.
Additional phone-based and online scams including the SIN scam, the tech support scam and the bank investigators scam involving Indian citizens have also targeted people in United Kingdom and also in Canada.
The Canadian Anti-Fraud Centre said it received nearly 20,000 reports about such calls in 2019, with more than 5,500 people falling victim in 2019.
Canadian officials said they discovered 39 Call Centres, operated in New Delhi and Noida area and informed Indian police.
Canadian people termed Indian scammers as, 'They're nothing but financial terrorists'. 74,000 Canadians have complained about the CRA phone scam. More than $16 million dollars have been stolen, making it one of the largest cyber scams in Canadian history.
In 2018, Canadian authorities identified the location of one major criminal enterprise behind the harassing calls. It operated from an apartment complex in Mumbai, India, making calls every weekday to phone numbers in Canada. In addition to the dozen investigators tracking leads in Canada, an RCMP officer posted in India has coordinated work with top Indian authorities. The result, in less than a year, has been 39 raids against scam centres in India and 45 arrests.
The results of the new, multinational effort have been primarily witnessed in India, epicenter of the illegal call centre industry. But investigators say they are also following leads in Canada, going so far as to identify individuals they believe are directly connected to the scam, perhaps as "money mules" responsible for moving funds obtained from victims back to India. In 2018, $6.4 million was reported as having been stolen from Canadians through the CRA scam. So far in 2019, $1.5 million has been reported officially.
The criminals also made millions of dollars through spoofing scams. Indians have made tens of millions of dollars by using programs to spoof legitimate local numbers or even numbers belonging to government organizations, thus committing a federal crime apart from cheating and fraud.
Canada, the U.S, U.K, Australia and New Zealand are worst hit countries and a recent special Report of BBC written by Rajini Vaidyanathan is an excellent document to understand how Indians scammers operate?
Report title "Confessions of a call-centre scammer" published on March, 2020 explains how did a Campaigner Jim Browning hacked into a Delhi call centre run by Amit Chauhan and found mind blowing information about rackets working from India to cheat north Americans and European people.
Rajini Vaidyanathan got background interviews of several scammers and her work is worth to help how huge scammer networks are being operated from India.