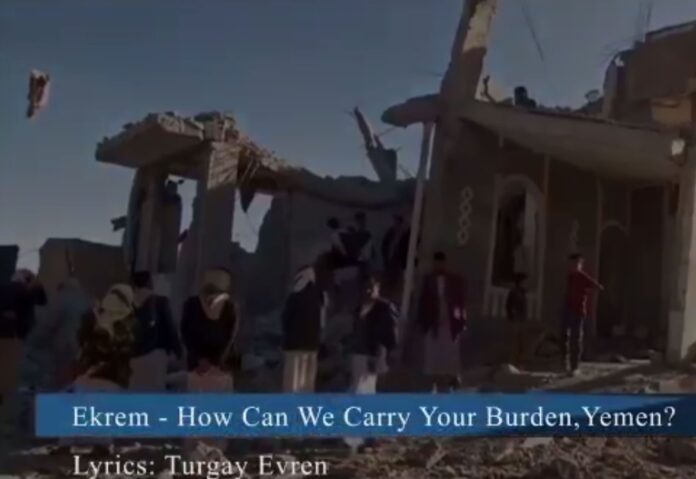 You find usually nothing about the human massacre and colossal purge of children in Yemen in media because the aggressor is powerful. Yemen is forgotten by Muslim Ummah and OIC because the killer and killed are Muslims. UN, EU, and other international bodies are quiet because the killer is powerful and rich while Yemeni children are down to poor having no food to survive.
In these circumstances, Turkish story writer, poet, songwriter, and composer Turgay Evren has raised the voice of voiceless Yemen—– the land facing brutal genocide.
"How Can We Carry Your Burden, Yemen?" I hope this song reminds us of our humanity we lost in Yemen!…

"Nasıl Taşıyabiliriz Senin Yükünü, Yemen?" Umarım bu şarkı bize Yemen'de kaybettiğimiz insanlığımızı hatırlatır!…

Full Version: https://t.co/6MUW6SYZvJ pic.twitter.com/OhGgJtsQ0b

— Turgay Evren (@TurgayEvren1) July 25, 2020

His song "HOW CAN WE CARRY YOUR BURDEN, YEMEN?" makes you cry.
He questioned Humanity —He questioned the existence of Humanity and he questioned collective consciousness of Humans living around Yemen —–A part of the earth.
Lyrics of his song follows:
Brothers kill each other
For what reason
Children are starving
For no reason
Women are crying
Every season
Dark hearts do not follow
Any beacons
How can we carry
Your burden, Yemen
You kept crying
After hatred came
Houses are destroyed
Hearts are broken
Children are orphaned
Hopes are stolen
Young men are helpless
Love forgotten
Mercy is buried
Human, sunken